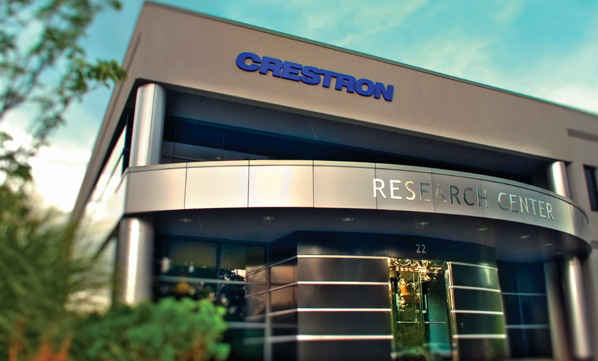 A Visit To Crestron's New Jersey World Headquarters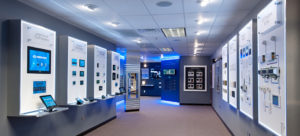 Part of the Experience Center in NJ
The Audio/Video and Integration world is constantly changing. To be good in this industry, one has to actively stay educated on new products and technologies as they become available. It's a difficult balancing act to find new product, research it, and hopefully even test it out before bringing it to a client. That is the very reason Crestron makes it's dealers stay on top of things. As a Crestron Dealer, we are required to attend a certain amount of continuing education and trainings each year. Crestron is always pushing the boundaries with new products and technology. Since it is us dealers in the field that have to bring that technology to life, they rely on us knowing exactly what we are doing.
Recently I had the opportunity to attend a dealer event at the New Jersey world headquarter for Crestron. My first time actually going there. All I have to say is WOW!!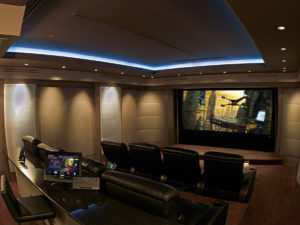 The Theo Kalimorakis Theater inside the Experience Center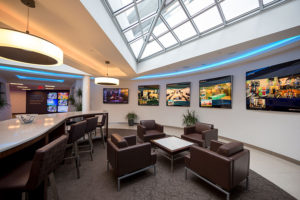 Some of the Video Displays showing the versatility of "Digital Media"
The Experience center alone is quite impressive. It's a massive faculty that has virtually every relevant piece of Crestron product and technology on display and running to try out.
Ok, so that's the fun, "shiny ball" stuff, but what about how this place really ticks? Well, we toured the entire campus (and it is a massive campus comprised of a half dozen huge buildings). One fact that few people may know, is that every product Crestron produces is made right there in New Jersey. From conception to delivery, it all happens there. We visited the massive shipping warehouse where literally 12-14 UPS semi-trucks full pf product leave every single day. We visited the engineering labs where ideas are tried out. Using CNC machines, circuit board printers and 3D printers, the engineers can prototype anything they want to try it out. Items then go into pre-production where they make small batches to essentially try and "break" them. Once that's done, they go into the regular production line. Then each unit it tested thoroughly before being boxed and inventoried.
Digital Media
The Digital Media Testing Lab
One of Crestron's most widely sold products and one of the most ground breaking, are their Digital Media brand of HDMI Switchers and Matrix's. Crestron basically invented the technology and has pioneered HDMI signal switching and distribution ever since. The amount of technology and information in an HDMI signal is staggering. You don't think about it when you plug that Apple TV into your LED display. However, to be able to manage large amounts of signals, send them long distances, switch very fast AND be compatible with anything you can throw at it, is a pretty dizzying feat.
Digital Media Switchers being configure and Tested Prior to Shipment
Lastly, the DM Configuration world. Since each switcher is a chassis with input and output cards configured to order for the particular application, each is built in house prior to being sent out. These guys take a day or two to configure the switcher (anywhere from an 8×8 all the way up to a 128×128!) by adding the cards as requested, then sending video into and out of it in every possible configuration. Only after it's fully configured and tested is it sent out into the world to do it's job. It's pretty impressive.
So, it was quite a learning experience to see this all. Even better, it was nice to finally meet the people whom I've been dealing with for all these years. While Crestron is a huge company, it's full of people very passionate about what they do and it retains a very small company "family" feel.